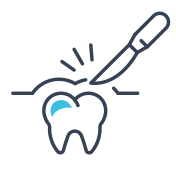 If you are suffering from continuous problems with your wisdom teeth, surgical extraction maybe advised. It is also used for correcting jaw abnormalities or removing teeth damaged beyond repair. Oral surgery is carried out by our fully qualified dental surgeons who will put you at ease straight away.
Wisdom teeth are the teeth at the back of your mouth (the third molar teeth). They tend to come through (erupt) in the late teens or twenties. Some wisdom teeth do not come through fully (partly erupt) and get stuck (or impacted) against nearby teeth or bone. This often leaves a flap of gum over your tooth. Others grow too long (over erupt).
A wisdom tooth may need to be removed for one or more of the following reasons.
repeated or serious infection of the gum
tooth decay
a wisdom tooth can grow out too far and damage the cheek or gum
you may need an operation to move your jaw forwards or backwards
your tooth may be in a position that makes it difficult to clean properly
an orthodontist may need to make space to move other teeth backwards
you may have a cyst near or around your tooth, or other jaw problems
your tooth may be in the line of a jaw fracture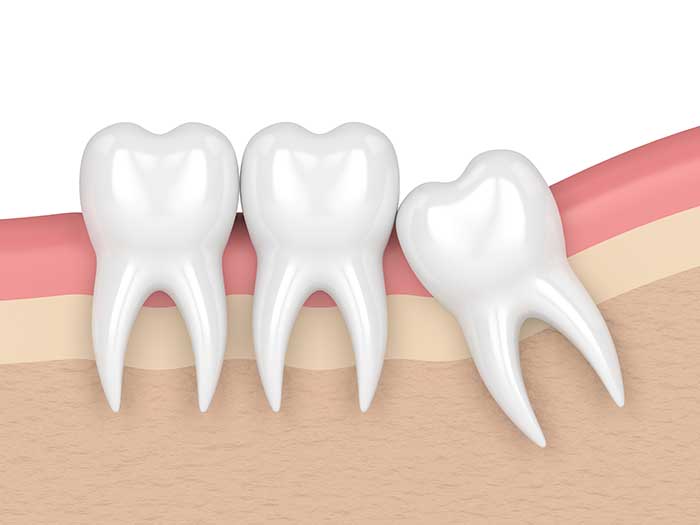 What is the surgery like?
Fortunately, wisdom teeth removal is very straight forward and nothing to be afraid of. You'll always receive some sort of numbing mechanism so you shouldn't feel any discomfort. This will either be in the form of:
A local anaesthetic

 

– Meaning that you remain awake and may feel some pressure but won't feel discomfort
Conscious sedation

 

– You remain awake but in a lesser state of consciousness, so you won't feel or remember much, or
General anaesthetic

 

– Usually reserved for wisdom tooth removal under a hospital setting where you are asleep and therefore won't remember anything.
Typically patients will be asked to avoid eating or drinking for a certain amount of hours prior to oral surgery depending on the type of anaesthetic they receive.
Once any ability to feel pain has been tackled, a specialist tool will be used to disconnect and loosen the connective tissue situated around the problem tooth.
Once this is done, the wisdom tooth can often be quickly and easily removed. For more difficult or complex wisdom teeth removal, the tooth or teeth may need to be divided up into sections and taken out piece by piece. Either way, the whole extraction process requires more finesse than force.
Once the offending tooth is extracted, the site will be plugged using a piece of gauze. This is to promote blood clotting and will quickly help the area to heal. If the gum has had to be cut and any bone removed, then we will use either self-dissolvable sutures or sutures that are removed one week later.
The whole process can take anything from a few minutes to twenty minutes or more per tooth depending upon the complexity of the extraction, but in any case, the actual wisdom tooth removal surgery should be comfortable for a patient. In fact, in many instances, extraction serves to alleviate any pain previously felt from an impacted or problem tooth.
Need to know more? Please get in touch with us today.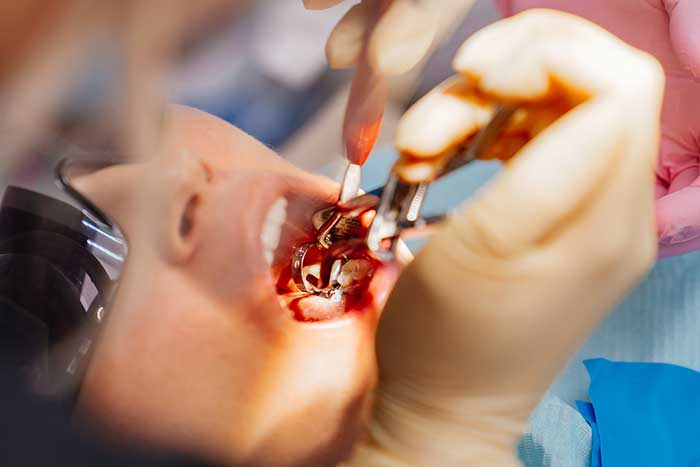 Ready to make an appointment?
It was great customer service
The entire experience was straight forward from organizing the appointment to attending. Very clean practice with lots of natural light. I required an emergency appointment as my tooth was killing me. Thanks to Dr Harmeet who was very gentle and got rid off my pain. Now I can enjoy my coffee again.
Sarah Rush
I could not recommend Dr Harmeet more highly
I have been going to Harmeet for scale and clean for years. It prevents more serious dental issues and he bulk bills. I could not recommend him more highly.
Ian Fleming
I highly recommend this clinic
I have been attending this clinic for over 10 years and I have always found Dr. Harmeet so skilful in his dentistry. He always offers good advice for dental health maintenance and has stabilised what was, a mouthful of old deteriorating amalgam fillings AND he has never hurt me during any of the procedures he has done.
Susan Page

​Please note if you are unable to attend your appointment 24 hours notice is required or a cancellation fee will apply. Three Broken appointments will result in further appointments at Dental Care @ Bentons being refused.
127 Bentons Rd Mornington Victoria
Find us at the corner of Dunns and Bentons Rd Mornington
We accept all major health funds. We are preferred providers for Australian Unity, HCF, CBHS & NIB.
The following health funds Aami, Apia, G Health, Quantas, Suncorp, Ing Health are incorporated with NIB.