For urgent dental care please contact us immediately.
We provide a comprehensive range of dental care services to all our patients.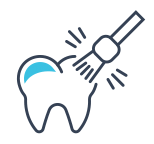 Preventative dental care is the best way to keep your gums and teeth healthy. Our dentists offer routine dental examinations to enable early diagnosis of any signs of wear or disease.

Our dentists can fix your damaged teeth using composite tooth coloured material rather than unattractive silver fillings. Our skilled dentists can repair any damage leaving.

Root Canal is carried out under local anaesthetic & involves removing bacteria from inside the tooth. Once the infection has been removed, the tooth is sealed with a filling or crown.

Our crowns are custom-made to suit your original tooth in colour and shape. You may consider a bridge if you are missing one or more teeth which 'bridges' the gap using existing teeth as anchors.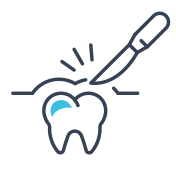 If you are suffering continuous problems with your wisdom teeth, surgical extraction maybe advised. It is also used for correcting jaw abnormalities or removing teeth damaged beyond repair.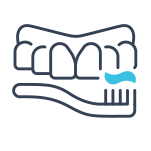 If you are self-conscious about the colour of your teeth, teeth whitening could be for you. This routine procedure can lighten the colour of your teeth by using a safe dental bleaching agent. 

Dental implants are the perfect solution to replace missing teeth due to an accident or infection. Screwed into your jawbone, implants are a safe, well-established treatment carried.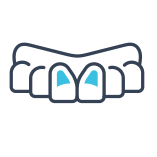 Do you participate in contact sports?  Our dentists will be more than happy to provide you a with custom-made mouth guard to fit your mouth properly and help protect your teeth and gums. Mouth guards can also be used to help reduce snoring or teeth grinding whilst asleep and can be made for mouths of all ages.  

Dental veneers have the ability to repair, protect, and improve the total appearance of your teeth. A dental veneer is a thin, custom-made covering that is placed over the front of the tooth. This procedure is quite simple and only requires a few visits with your dentist.
Ready to make an appointment?
It was great customer service
The entire experience was straight forward from organizing the appointment to attending. Very clean practice with lots of natural light. I required an emergency appointment as my tooth was killing me. Thanks to Dr Harmeet who was very gentle and got rid off my pain. Now I can enjoy my coffee again.
Sarah Rush
I could not recommend Dr Harmeet more highly
I have been going to Harmeet for scale and clean for years. It prevents more serious dental issues and he bulk bills. I could not recommend him more highly.
Ian Fleming
I highly recommend this clinic
I have been attending this clinic for over 10 years and I have always found Dr. Harmeet so skilful in his dentistry. He always offers good advice for dental health maintenance and has stabilised what was, a mouthful of old deteriorating amalgam fillings AND he has never hurt me during any of the procedures he has done.
Susan Page

​Please note if you are unable to attend your appointment 24 hours notice is required or a cancellation fee will apply. Three Broken appointments will result in further appointments at Dental Care @ Bentons being refused.
127 Bentons Rd Mornington Victoria
Find us at the corner of Dunns and Bentons Rd Mornington
We accept all major health funds. We are preferred providers for Australian Unity, HCF, CBHS & NIB.
The following health funds Aami, Apia, G Health, Quantas, Suncorp, Ing Health are incorporated with NIB.