Millions of teeth are saved each year with root canal, or endodontic treatment which means treating the inside of the tooth rather than the outside. If you suspect you may need a root canal, please get in touch with us as soon as possible to avoid suffering with tooth pain.
Root canal treatment is designed to eliminate bacteria from the infected root canal, prevent reinfection of the tooth and save the natural tooth. When one undergoes a root canal, the inflamed or infected pulp is removed and the inside of the tooth is carefully cleaned and disinfected, then filled and sealed.
Inside your tooth, beneath the white enamel and a hard layer called dentin, is a soft tissue called pulp. This tissue contains blood vessels, nerves and connective tissue, which help grow the root of your tooth during its development. A fully developed tooth can survive without the pulp because the tooth continues to be nourished by the tissues surrounding it.
A modern root canal treatment is nothing like those old sayings! It's very similar to a routine filling and can usually be completed in one or two appointments, depending on the condition of your tooth and your personal circumstances. Getting a root canal is relatively painless and extremely effective. You'll be back to smiling, biting and chewing with ease in no time.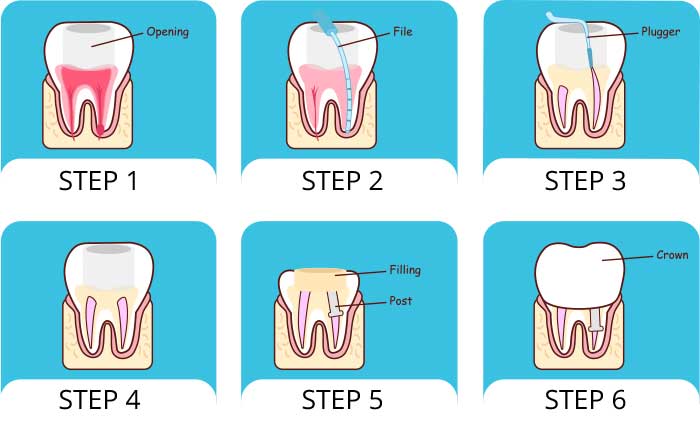 Since patients are given anesthesia, a root canal isn't more painful than a regular dental procedure, such as a filling or getting a wisdom tooth removed. However, a root canal is generally a bit sore or numb after the procedure, and can even cause mild discomfort for a few days.
It was great customer service
The entire experience was straight forward from organizing the appointment to attending. Very clean practice with lots of natural light. I required an emergency appointment as my tooth was killing me. Thanks to Dr Harmeet who was very gentle and got rid off my pain. Now I can enjoy my coffee again.
Sarah Rush
I could not recommend Dr Harmeet more highly
I have been going to Harmeet for scale and clean for years. It prevents more serious dental issues and he bulk bills. I could not recommend him more highly.
Ian Fleming
I highly recommend this clinic
I have been attending this clinic for over 10 years and I have always found Dr. Harmeet so skilful in his dentistry. He always offers good advice for dental health maintenance and has stabilised what was, a mouthful of old deteriorating amalgam fillings AND he has never hurt me during any of the procedures he has done.
Susan Page

​Please note if you are unable to attend your appointment 24 hours notice is required or a cancellation fee will apply. Three Broken appointments will result in further appointments at Dental Care @ Bentons being refused.
127 Bentons Rd Mornington Victoria
Find us at the corner of Dunns and Bentons Rd Mornington
We accept all major health funds. We are preferred providers for Australian Unity, HCF, CBHS & NIB.
The following health funds Aami, Apia, G Health, Quantas, Suncorp, Ing Health are incorporated with NIB.